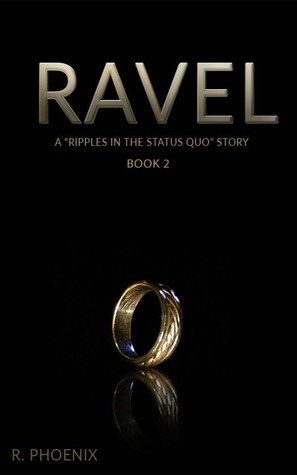 Blurb
Revised & expanded edition as of 3/22/16. Please note that content, publisher, and other aspects of the work have changed.
For the past few years, Reese has hidden away in his home, refusing to venture out where he might have to face what reminds him of all that he's lost. When Ashton, a human thief, breaks into his home one night, he doesn't have a choice but to face the harsh truths of the world he's turned his back on. He knows he supports the society monsters of myth and lore built upon the backs of humans through his silence, but the new leaders don't tolerate sympathizers.
If a werewolf can't act against the status quo without facing severe consequences, a human with Ashton's cunning and experience circumventing supernatural predators certainly can't risk drawing their attention. Their chance encounter leaves them both shaken and questioning whether they are living life as they were intended—or if surviving is really living at all.
Ravel is approximately 23,600 words (excluding front/back matter).
###
The Ripples in the Status Quo works are set within a world where supernatural beings seized control from humans and relegated them to the bottom of the food chain. Used for food, entertainment, and worse, nothing protects them from the hands of those who claim them as slaves. But not everyone adheres to the status quo the world at large has accepted…
Please note that the RISQ world has little place for humanity–and the author's idea of romance may not match yours. As such, there are no guarantees of happily ever afters, and content may be offensive to some readers.
The suggested reading order is below, though these works can be read as standalones.
1. Bought. [Dark Erotica]
2. Ravel. [Romance]
3. Recoil. [Dark Erotic Romance]
4. Owned. [Dark Erotic Romance. Follows events in Bought and Recoil.]
Review
I liked this book very much. I'm really enjoying this series. This book is a little very different from the previous, it lack some on the dark elements I loved from it, but I still had a great time reading it and now I'm more certain that I will read the next ones.
The plot is a little simple but it was easy to feel attracted by it. One of the things I enjoyed the most was trying to figure out how the world worked for them, for humans, werewolves and others involved in the story. It was very intriguing and I finished the book wanting to know more about it. For me it was a very nice hook to keep reading the next books on the series.
The characters were so good, I generally have one favorite, but in this case both main characters were very nice and I just can't choose one I liked more than the other, I liked them both so much. It was interesting for me realizing that some of the aspects I disliked from Ashton at the beginning, were the things I liked the most when I finished it. What I loved the most from them was their attitudes, it annoyed me but also make the story more entertaining. I loved the interaction between them and I think their relationship was very realistic, it didn't appeared too forced, and they seemed to have very natural reactions to the events they had to live.
There were so many questions unanswered at the end of the book, mostly about the world, but there were also some characters with brief appearances that made want to know about them. I can't wait to get the next book.
A brief comment unrelated to the story, i loved that cover. It looks so simple and yet so beautiful.
In general I think it was great, I'm into darker stories and perhaps this won't be my favorite of the series, but it was a sweet story and I think that can be more attractive to most readers.