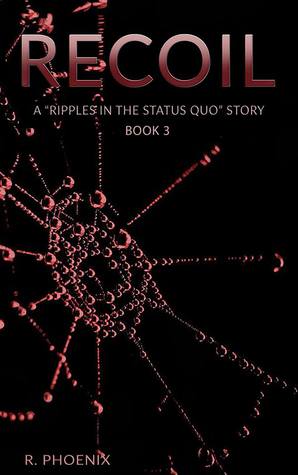 Blurb
Over the past decade, Khaz has watched as supernatural creatures like himself have turned the world into their own personal playground. Unlike the others, he didn't benefit from the Takeover, and every time he sells himself to keep a roof over his head, he's keenly aware of that fact. His landlord, a renowned slaver, offers him the chance to catch up on his rent by breaking a human.
Groomed to fight, Noah has survived by giving himself over to his hatred of those who took everything away from humanity. When the werewolf can't break him, he's given to the vampire instead-and he's sure this will be no different. The problem is that even the harsh lessons the Rebellion taught him couldn't prepare him for someone like Khaz…who always has an ace up his sleeve.
Revised & expanded edition as of 4/1/16. Please note that content, publisher, and other aspects of the work have changed.
Recoil is approximately 28,300 words (excluding front/back matter).
###
Please note that the RISQ world has little place for humanity, and as a result, content in these works may be offensive to some readers.
Ripples in the Status Quo Books:
1. Bought. [Dark Erotica]
2. Ravel. [Romance]
3. Recoil. [Dark Erotic Romance.]
4. Owned. [Dark Erotica. Follows events in Bought and Recoil.]
Review
Another great story as a part of this amazing series. I can't get enough of it.  Just as good as the previous one.
Khaz is trying catch up with his rent by accepting to break a human. Noah, a member of the rebellion, is not an easy subject to break, but he isn't expecting what Khaz has prepared.
The plot was interesting, I already know the way this world works and that made easier to understand the interaction between the different creatures that live among them. It had a steady pace, it was easy to read, and I found myself, again, being unable to put it down.
The characters were so good, perhaps not my favorites from the series but they both were very nice. The attitude they had was fun to read, especially Noah's, I love an angry character. The ambiguous feelings they had was truly interesting. It was so easy to get into their mind and really get to know them. Kahz was my favorite, I loved the struggle he had.  The way their relationship was built was great, I loved how much they have to put aside to get there.
The last pages were the most intriguing of it all, the doubts, the restrain feelings and the uncertainty of what might happen was fantastic.
I was expecting it to be a little darker book, but what I have read it's just great and I can't ask for more. I'm, for sure, will be jumping into the next one soon.
*I received a copy of this book from the author in exchange for and honest review