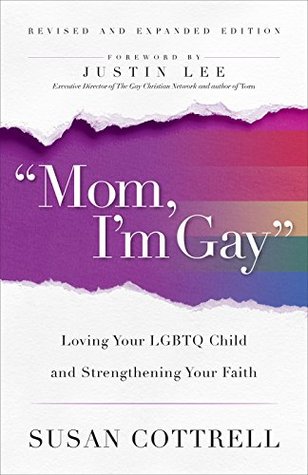 Blurb
When your child reveals that he or she is attracted to the same sex, how you respond may have a lot to do with your faith. Doesn't the Bible say that's wrong? Will we have to leave our church? Worst of all, you may wonder, "Do I have to choose between my Christian faith and my child?"
Susan Cottrell is a mom who has been there and wants you to know that loving and accepting your gay child does not mean abandoning or even compromising your faith. This is not a book about the politics or morality of homosexuality. This is a book about how to respond with love and support during this vulnerable time for your child. With practical advice and heartfelt encouragement, Cottrell guides readers through the fear and uncertainty Christian parents of LGBTQ children often feel.
Review
This was a nice book, t was written with a great intention. The message itself is really good but, sadly, the people who could be more benefit from it, the ones that are harming their beloved ones, are the ones who won't give it a chance.  For the ones who are willing to try to see things from a different point of view, this book can be great tool in this journey.
The book is divided in five sections that help the reader to how to cope with the shock, understanding your child's experience, how to respond, how to work things out with God and finding support.
It help the parents to see how things said or think by them or by members of the community might be hurtful. I think one of the strongest parts of the book is the one that try to put the reader into the child's experience. It's very helpful to try to think how the other person might feel and the book makes a nice try on it.
It also take some of the most common arguments that some people from the church have against LGBTQ persons, and gives it a different meaning. It doesn't try to dismiss people's faith, but to help to see how some belief are against of the truthful meaning of a loving God.
The book tries to help to understand, to remain close to your love ones and to put prejudice and what others might think aside. I think it is a great book, but the results from it is in the hands of the reader and how much effort is willing to make.
I'm ending this review with a nice quote from the book that I think it's the essence of it  "Ïf you're worried about what God will think of you, just cling mightily to the first and foremost command to love, love with all your heart, and let God reveal and heal the rest"

*Book provided by NetGalley.