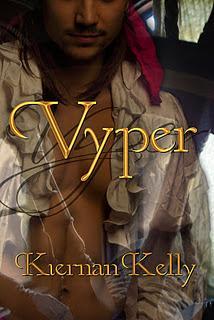 Blurb
Vyper is a dashing pirate whose name strikes fear in the hearts of blackguards and civilians alike. A fortuitous message in a bottle leads Vyper to the island of Jamaica, but soon entangles him in a web of lies, deceit, and double-crosses, and introduces him to the man who may plunder Vyper's heart and destroy his world.
Byron Caldwell is a handsome, titled British landowner, whose holdings include a thriving plantation on the island of Jamaica. The only shadow on his otherwise brilliant future is his shrew of a sister, Elizabeth. It's his intention to marry her off as soon as possible, if only he can find someone willing to take her off his hands.
Elizabeth wants one thing and one thing only, the key to the Caldwell fortune, and she'll stop at nothing to get it, including arranging the kidnapping and eventual death of her brother by hiring the most ferocious pirate she can find.
The events spurred by a seemingly innocuous message found in a bottle washed ashore on a tiny island in the Caribbean soon set Vyper's life on its ear, and may ultimately bring about his demise.
Review
I listen to the audiobook, it was a nice book. I wasn't too much fond on either of the main characters, but there were some interesting moments in the book that made enjoyable.
The story was nice, I wasn't sure about it in the beginning, I didn't see the story going anywhere, but near the half it start to become more interesting and I was very intrigued by some events. The pace is steady, it does have some exciting moments and, of course, some fights.
Vyper was an unlikable character, I don't know why but I just couldn't care for him. I wasn't able to connect to any of his feelings, I just didn't believe him. Byron was a little the same, he was just so plain, so boring, I just didn't like him at all, and I didn't care either for their relationship.
Toby, on the other hand, was a very nice character, he was very sweet but I wished he would be a little more developed. Elizabeth was also a great character. She was the one who generate all sort of emotions in me. She was so histrionic that it was so fun to know about her, I laugh so much of all of her plots. She seemed so spoiled at first and it was very nice to see that there was so much more behind that.
I liked the narration, I felt it made the story a little more interesting for me. I loved the voice that was given to Toby, I felt like it add something to the, already there, sweetness of the character.