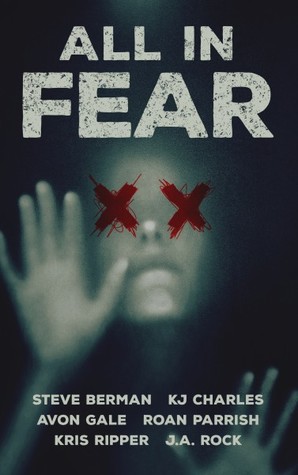 BLURB
Want something a bit different for the holidays? Horror has never looked this enticing! New release, All in Fear, is a gorgeous collection of horror tales from some of the hottest names in queer fiction. Be prepared to be titillated…and terrified.
All in Fear
By KJ Charles, Roan Parrish, J.A. Rock,
Steve Berman, Avon Gale, and Kris Ripper
Horror wears many faces, and its masks can be tantalizing. Some of the top names in queer fiction come together to spin their own versions of horror. Worlds rife with dark beauty and mystery, the familiar becoming terrible, creatures ethereal and alluring—and all bearing the gleam of love. Does hope lie along these grim passages or only doom? It will become clear. All in time—and all in fear.
Company by Roan Parrish
Nick Levy's family is falling apart and he has no friends, but at least he can escape into the world of his favorite comic book series, The Face of the Vampire. Naturally, when the vampire in question shows up one day, Nick is enthralled. After all, what could be better than his own personal fantasy made real? Except that Nick isn't exactly sure whether Michel is real or not. And when the arrival of a new boy in school promises romance, Nick sees a side of Michel he never could have imagined. This Michel is cruel, jealous . . . and he'll do anything to keep Nick for himself.
Love Me True by Kris Ripper
Palmer's life is as good as it gets. Well, okay, so he hates his mind-numbing office job. But he's found a hot, smart, incredibly kinky guy. The sex is explosive. The power play is off the hook. And if he gets his way, Jon will soon be his husband.
When Palmer asks, Jon says yes. For the first time ever, Palmer thinks things might be really good. Sure, bad things happen in the world—to other people. But this is all he needs: Jon at the end of the day, in their bed, arms around him.
How could he have possibly been so stupid?
The Price of Meat by KJ Charles
Johanna Oakley will do anything to save her beloved Arabella from the cruelty of Mr Fogg's madhouse—but 'anything' turns out to be more than she bargained for when she finds herself working for a man suspected of worse than murder. As Johanna is plunged from the horror of Sawney Reynard's barber shop into the foul, lawless labyrinth at the heart of London, can she or anyone get out alive?
His Mouth Will Taste of Chernobyl by Steve Berman
Joining Zeta Psi isn't Steve's dream, it's his dad's. Nevertheless his dad's gift of the mysterious Bailey flask gets Steve an in to the frat house, and maybe his best shot at being accepted on campus. But the flask's silver sheen may only be lighting his way into the darkness at the heart of the frat—and the darkness he's learning is within himself. Steve wants to choose who he is, but choices are dropping like flies as he learns the true mystery of the Bailey flask. How does he give back a gift that's also a curse?
Legion: A Love Story by Avon Gale
STAFF SERGEANT JASON ESSEX, YOU HAVE RECEIVED THE FOLLOWING ORDERS FROM THE UNITED STATES MARINE CORPS:
REPORT TO: CAIN INSTITUTE [ADDRESS REDACTED]
ACTIVE DUTY COMMITMENT: GUARD AN ENTITY CURRENTLY HELD IN AN ENCLOSURE AT THE CAIN INSTITUTE. RECORD DAILY MEASUREMENTS. KEEP ANY AND ALL PERSONS FROM ENTERING OR LEAVING THE FACILITY. ENSURE THE ENTITY REMAINS COMPLETELY INCARCERATED. OBSERVE THE ENTITY WITHOUT ENGAGING.
ADDITIONAL INSTRUCTIONS: THIS ASSIGNMENT WILL BE CARRIED OUT IN FULL ISOLATION. PLEASE BE ADVISED.
Beauties by J.A. Rock
When Dr. Lester Usole attends an event at AI developer Carnificiality, he's introduced to Beauties: artificial beings designed to provide tailored sexual experiences for their human owners. Lester isn't interested in sex—but he is fascinated by Ira, a Beauty too violent to be sold.
Lester convinces Carnificiality to give Ira to him. Lester has always wanted the chance to work with an adult AI, and around Lester, Ira isn't violent. He's strangely innocent, uncannily perceptive, and his company does much to ease Lester's loneliness. Except something's not quite right: Ira roams at night, even when Lester's sure he's locked Ira's door.
Soon Lester is certain of only one thing: Ira has a secret. Something that will link their pasts and change the course of their future—if Lester is willing to face what's on the inside.
Learn more on Goodreads.
Order it now: Publisher's Site  |  Amazon  |  B&N  |  ARe  |   Apple  |  Kobo
REVIEW
Company by Roan Parrish
This was really nice, I really loved Nick, he was so sweet, it was hard not to love him. Michel was also nice, but just for the different reasons than Nick. He was so scary. I loved this character very much because I keep guessing all the time about what was on his mind. The plot is really good, is different, it had some nice romantic moments. I liked how Nick was very ambivalent about his feelings for Michel, I was great to see the doubt in him and how the relationship change.
Love Me True by Kris Ripper
One of the things I loved the most of this story was the BDSM, It kind of feel like those were the best moments in Palmer and Jon's relationship. For most of the story everything seemed pretty normal, I loved the way how some perfectly normal life can suddenly became some horror story. It was a very realistic turn of events. The characters were nice, and their relationship was so lovely, they were percent together.
The Price of Meat by KJ Charles
This story had some of the elements that, generally, might make me not read it. Most importantly of them all, I don't like reading historical that much. But it was a good example, to me, of how pushing boundaries is important sometimes. I loved it. I was so amazing, It was so strong on the mystery part. The plot was so good, It start a little slow but there was a moments when I just couldn't stop reading, so exciting.  The characters were very nice. I do feel like I didn't get to know them as much as I would like. The only issue I had with it is that I want more, I wish I could get to know more of Johanna and Arabella's relationship and there is a character near the end that I would really love to know his story. It's my first book from the author, but judging by the way I felt reading this, It surely won't be the last.
His Mouth Will Taste of Chernobyl by Steve Berman
I really liked Carl, he was such a sweet character, but I wasn't sure about Steve. I just couldn't care so much for him, but one thing I really liked of him, was his internal struggle of not become something he didn't want. The secondary characters were interesting. I was a little confused at the beginning of the story, but after a while it was nice to guess the mystery behind the flask.
Legion: A Love Story by Avon Gale
This was so awful, but in the right kind of way. It was terrifying. I was so scared I thought I wouldn't be able to sleep after finished reading this one. One of my usual reactions when I'm scared, which doesn't happen often, is laughing, I don't know why but that's what I do. While reading this, I was laughing uncontrollably. There were times when I had to put the book down to pull myself together. And I even was afraid of being alone. The entity was an awful thing, something I would never read about. I know my limits and what scares me, and I think, if know what that thing was, I probably wouldn't read it, but as I was blind to what it was I read it anyway. I don't regret it because the story was amazing and I probably would have missed it. I'm speechless about it, I just was so frightened, but even then I think this was the story I liked the most. Is the first time I read something from this author, but someone who can create such strong emotion on a reader, it surely needs to be read. I will be looking for more books her.
Beauties by J.A. Rock
I really loved this story, but most of it I loved Ira, he was such a beautiful character, I liked everything about him, his apparent inability the feel emotions, the monotonous way he speak, how a non-human character can seemed more human than actual humans. The way he thinks, is also very interesting, especially in the last moments of the book. I liked Lester too, but I guess not as much as Ira. Some of the events, even though awfully sad, made such a great story. It was very unexpected, I really enjoyed it.
Overall I think it was an amazing group of stories. There is a little bit of everything here. I think a lot of reader can enjoy it. It is important before reading it to know that it might not be happy endings in all of the stories, but regardless that fact, there are some really amazing stories told here.
 ARC provided by publisher.
ABOUT THE AUTHORS:
Steve Berman
Steve Berman loves to tell stories that are both queer and weird. He was a Zeta Psi back in his college days at and remembers being hazed. He survived and graduated and even earned a Masters Degree in Liberal Studies. He has written and sold over a hundred articles, essays, and short stories. His YA novel, Vintage, was a finalist for the Andre Norton Award.
KJ Charles
KJ Charles is a writer and freelance editor. She lives in London with her husband, two kids, and a cat with murder management issues. KJ writes mostly historical romance, mostly queer, often with fantasy or horror in there.
Find her on Twitter, pick up book info and free reads on her website, get the infrequent newsletter, or join her Facebook group for sneak peeks and exclusives.
Avon Gale
Avon Gale wrote her first story at the age of seven, about a "Space Hat" hanging on a rack and waiting for that special person to come along and purchase it — even if it was a bit weirder than the other, more normal hats. Like all of Avon's characters, the space hat did get its happily ever after — though she's pretty sure it was with a unicorn. She likes to think her vocabulary has improved since then, but the theme of quirky people waiting for their perfect match is still one of her favorites.
Avon grew up in the southern United States, and now lives with her very patient husband in a liberal midwestern college town. When she's not writing, she's either doing some kind of craft project that makes a huge mess, reading, watching horror movies, listening to music or yelling at her favorite hockey team to get it together, already. Avon is always up for a road trip, adores Kentucky bourbon, thinks nothing is as stress relieving as a good rock concert and will never say no to candy.
At one point, Avon was the mayor of both Jazzercise and Lollicup on Foursquare. This tells you basically all you need to know about her as a person.
Connect with Avon:
Sign up for Avon's Newsletter
Roan Parrish
Roan Parrish lives in Philadelphia where she is gradually attempting to write love stories in every genre.
When not writing, she can usually be found cutting her friends' hair, meandering through whatever city she's in while listening to torch songs and melodic death metal, or cooking overly elaborate meals. She loves bonfires, winter beaches, minor chord harmonies, and self-tattooing. One time she may or may not have baked a six-layer chocolate cake and then thrown it out the window in a fit of pique.
Sign up for her Newsletter to receive updates about new releases, works-in-progress, and bonus materials like sneak peeks and extra scenes!
Kris Ripper
Kris Ripper lives in the great state of California and hails from the San Francisco Bay Area. Kris shares a converted garage with a little kid, can do two pull-ups in a row, and can write backwards. (No, really.) Kris is genderqueer and prefers the z-based pronouns because they're freaking sweet. Ze has been writing fiction since ze learned how to write, and boring zir stuffed animals with stories long before that.
Links:
Website
The Facebook group: Ripper's Irregulars:
J.A. Rock
J.A. Rock is the author or coauthor of over twenty LGBTQ romance, suspense, and horror novels, as well as an occasional contributor to HuffPo Queer Voices. J.A. has received Lambda Literary and INDIEFAB Award nominations for Minotaur, and The Subs Club received the 2016 National Leather Association-International Pauline Reage Novel Award. J.A. lives in Chicago with an extremely judgmental dog, Professor Anne Studebaker.