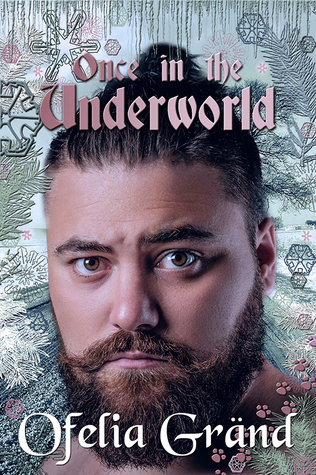 Chris Hart owns the only grocery shop in Nortown, but he isn't exactly overrun by customers. Some days he wonders why he bothers to open the doors at all. Spending his days smiling at the few people that do trickle in and his nights alone in bed isn't the most interesting life a man could lead. But when Chris suddenly gets the excitement he's been craving, it may just be more than he bargained for.
Gabriel Miller loves his life. He's close to his sister, has a job he adores and is the proud owner of one and a half cats. But all of it is taken away when he witnesses a murder and, to keep him safe, the police place him in Nortown, of all possible locations.
Chris can't believe they're letting someone live in his gran's old cabin in the middle of the winter; it's too cold. When the poor man shows up in his shop looking to buy clothes, Chris's heart melts, despite the freezing temperature. Gabriel notices the way the shopkeeper looks at him, but it can't be right. No one looks at a heavyset man with heat in their eyes. Do they?
When the danger follows Gabe to Nortown, it's more than their chance at happiness that is threatened, and Chris and Gabe find themselves fighting just to stay alive.
In this series:
Once in a Snowstorm (Nortown #1)
Once in a Forest (Nortown #2)
The Empty Egg (Nortown #2.5)
Once in May (Nortown #3)
Happy Endings (Nortown #3.5)
Once in the Underworld (Nortown #4)
Just Words (Nortown #4.5)
REVIEW
What an awful situation to be in. I felt sorry for poor Gabriel. I had a fun time reading it. The plot was nice, not completely unexpected, but very entertaining.
The characters were lovely, especially Gabriel. Maybe that's what made it so hard to see him put himself down so many times. It was great to see how Chris was able to help him start to put his insecurities aside. I love how the characters aren't perfect. It is very easy to relate to them.
There is a little bit of everything here, romance, actions, steamy scenes and some caramel and toffee. It was fun to read. I can see a lot of people loving it.
I cant say I love it. Maybe it was too sweet for me, I did liked it although I prefer darker stories, but I can never turn down a book from this author, I seem to like them all. In general it was really good. I think most readers will love it
I Recieved an ARC of this book from the author