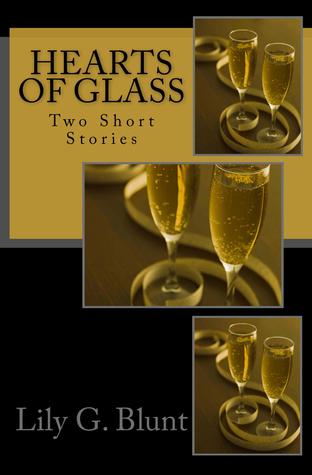 HEARTS OF GLASS
Two short heartbreaking yet erotic tales of love, romance and destiny by m/m author, Lily G. Blunt.
Happy Anniversary, Jasper.
As Nathan waits for Jasper in a restaurant to celebrate their tenth anniversary, he recollects their past and some of the passionate moments he has experienced with the love of his life.
You Can't Stop Loving Someone Just Like That
Despite being in love with his best friend, Brandon finds himself falling in love with Piers, a foreign exchange student, who is staying at his home over the summer vacation. Up to this point, Jaxon had shown no sign that he was gay or that he wanted Brandon. It is only when he sees Brandon and Piers together that Brandon wishes he had acted sooner.
REVIEW
Fair warning before starting, this stories don't have typical HEA ending. Still, they are full of love and are both very beautiful
There are two stories, both telling love stories, but very different from each-other. The only element they shared is the way the story is told, alternating the present with the past of the relationship. It was beautifully done.
Happy Anniversary, Jasper was so bittersweet. It can break the reader's heart as easily as it can make us fall in love with this beautiful couple. It was my favorite.
You Can't Stop Loving Someone Just Like That was also beautiful, what I liked about it was the way the relationship was developed, but there were some elements about it that just wasn't right for me, and I guess a lot of readers would have the same issues I had, but in general was very enjoyable and I liked it a lot.