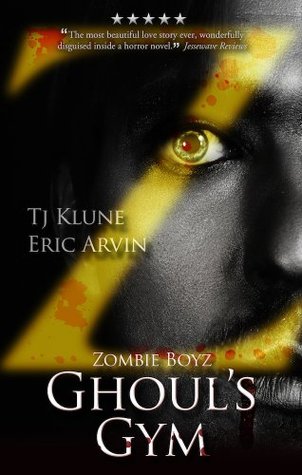 Board up the windows, push an old dresser against the door and load your shotgun. A zombie apocalypse is about to hit Wilde City, and if you want the best survival tips, six of Wilde City's boys are here to help.
You'll never want to exercise again as Eric Arvin and TJ Klune turn a gym full of hunks into a smorgasbord of terror in GHOUL'S GYM.
Previously published as part of the Zombie Boyz Anthology
REVIEW
This was so good. I had the greatest time reading it. It was so exciting. I just couldn't stop reading.
That was a great plot, very interesting and so fast paced that, when I noticed, I was at the end of the book in such short time. I loved the humorous side it took at times, but it still kept the creepy feeling of what was going on.
The characters were good, I couldn't help to feel a little frustrated with Jake's attitude at times, but I didn't disliked him because of it. His internal struggle was just amazing, so heartbreaking and absolutely beautiful. Uly was lovely, but there were some secondary characters that stole my heart, there were refer as the alphabeth twinks and I just loved them.
Overall it was a great book, I sort of satisfy by the ending, It did feel like the start of something else that I would love to see. Really good book.