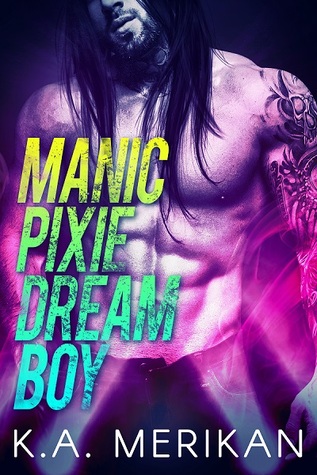 —. You can't hide the cracks under the spotlight .—
Dusk. Leader of The Underdogs. Destined for greatness. Lives in the now.
Abe. AKA Lolly. Iridescent. Unicorn.
All Dusk wants out of life is for his band to become world famous. He also wants to have a lot of fun along the way. And to get his rocks off. When he wants something, he goes for it, consequences be damned.
So when he sees a gorgeous pink-haired guy who is the human equivalent of tattooed cotton candy, he can't help but have a taste. But it's when Lolly ends up on their tour bus that Dusk knows their meeting was destiny.
Abe is the kind of guy who goes with the flow. He was hitchhiking anyway, so why not spend the week with a hot piece of rocker beefcake, getting smothered by his sexy long hair? And why not play the part of the supportive cutie while he's at it? It's not like he'd be sticking around for long anyway.
All plans hit a wall when photos of Abe and Dusk emerge online, suddenly pushing the band into the spotlight. To take advantage of the sudden popularity, the band offers Abe money for staying.
Which means money for being in a fake relationship with Dusk.
Which isn't even fake.
Or is it?
POSSIBLE SPOILERS:
Themes: rock band, alternative lifestyles, tattoos, bisexuality, commitment, instalove, abandonment issues, fame, outing, coming out, life on tour
Genre: Contemporary M/M Rocker Romance
Heat level: Scorching hot, explicit scenes
Length: ~52,000 words (Can be read as standalone, HEA)
REVIEW
This was amazing. I'm in love with this books and the beautiful characters created by the authors. It goes against everything I love in romance and yet it was fantastic. I really dislike instalove kind of stories, and this one is just that, but it worked so great for me. I couldn't be happier with it. I was even trying to read it as slow as possible so it could last a little longer.
What I like about it was the sweet moments Dusk and Abe shared. I wouldn't expect such adorable scenes coming from someone like Dusk but it was so beautiful. Abe was a lovely character, from the way he look to every part of his personality, everything was beautiful about him. I also enjoyed so much the dirty talk and all that flirty moments they had, it was so much fun. I didn't liked Dusk as much as I did Abe, but he was a nice character too.
I also enjoyed the secondary characters, most of all Dawn that was a joy to read and I liked the protective way Dusk act towards him, although sometimes he was a little bit too excessive. The plot was nice, I liked how things worked out. It had some angst but nothing too overwhelming, overall it was a fantastic book. I loved it and I couldn't recommend it enough.